Miele WEG365 9kg Washing Machine
In Stock
Miele Freestanding Washing Machine - White
---
Available Offers
2 Year Warranty
---
Warranty Info
1 Year Manufacturer Warranty Inc.
Extend Your Warrenty
5 year Retra Smartcare Gold Plan for your product (accidental damage cover)
3 year Retra Smartcare Gold Plan for your product (accidental damage cover)
MIELE WEG365 9 Kg 1400 RPM Washing Machine – White
Delay Start and Countdown Indicator - The delay start feature allows you to determine when you want the next wash program to start. This is particularly advantageous if you want to use night-time electricity tariffs or if the program needs to be finished at a certain time, for instance when you come home from work. You can postpone the start of a program by up to 24 hours. The display also indicates when the current program will finish.
Add-Load - Whether it is a pair of jeans, a blouse or just a sock: thanks to the Add Load function, you can easily add any laundry items that you have forgotten – up until shortly before the end of the program. This means you can add or remove items just for rinsing or spinning, giving you maximum flexibility in your everyday life.
Miele Home - With our innovative Miele home system, you can exploit the full potential of your Miele appliances and make your everyday life even smarter. All intelligent Miele domestic appliances can be networked conveniently and securely. Operation is simple – whether you use the Miele app, voice control or integration into existing Smart Home solutions. The appliances are networked via a home WiFi router and the Miele Cloud.
Multilingual - Your appliance can display information and tips in several languages to ensure that you understand everything. Simply select your language from the language menu. A flag directs you. This enables you to find your way – even if a language has been selected which you do not understand.
Cap-Dosing Portioned Dispensing - MIELE single-use capsules are a solution for special types of laundry. Made from 100 % recycled plastic, they go into the fabric conditioner compartment. The content of a capsule is perfect for a single wash cycle – there is no risk of adding too much or too little detergent. There are 6 special-purpose detergents to choose from, plus 3 fabric conditioners, the Impra-Protect proofing agent, Booster for stubborn soiling and Cotton-Repair.
Innovative Power-wash Technology - Power-Wash offers the highest level of cleaning performance – in just 49 minutes with the Quick Power-Wash program. All washing machines with Power-Wash achieve the highest energy efficiency class A and achieve economical consumption values even with small loads. This is possible thanks to the Spin & Spray technology which works with a very low water level and saves heating energy.
Proven Hygiene - With Miele, your laundry is more than just cleaned – it is hygienically cleaned: more than 99.99 % of E. coli and S. aureus bacteria are reliably removed in the Minimum iron 40 °C program with the Allergy-Wash extra option and in the Cottons hygiene 60 °C program (if available in your model). As confirmed by Rhine-Wall University of Applied Sciences.
Single-Wash - Want to wash your favorite blouse to wear this evening, but there is nothing similar in the laundry basket? Washing individual items is not ecologically justifiable – who has not experienced this dilemma? The Miele solution is Single-Wash. This Extra can be added to many programs. The appliance optimizes program running times, water and energy consumption for loads up to 1 kg. Washing individual items has never been so quick and economical.
Quick Power- ash - An A-rated wash performance in only 49 minutes – barely believable. With Quick Power-Wash, Miele achieves high-level cleaning performance in a surprisingly short time.
Automatic Load Recognition - All Miele washing machines feature intelligent automatic load recognition. This feature analyses the current load and uses only the amount of water and electricity needed for excellent cleaning and rinsing results.
ProfiEco Motor - The ProfiEco motor from Miele is a particularly powerful inverter drive and is also extremely economical and quiet. As the motor is electronically controlled, it does not require carbon brushes, which means it has no wear. For many years of efficient and convenient laundry care.
Honeycomb Drum - The hexagonal sculptured structure of the Miele honeycomb drum allows a thin film of water to be created between the drum and the laundry. This results in laundry gliding gently and protects the fibers perfectly. The smaller, smoothly polished shouldered holes in the walls of the drum are also gentle on your textiles and prevent burbling and laddering. Foreign objects such as paper clips no longer end up in the drain pump.
Energy Efficiency - Miele washing machines are ecological and consume only the amount of water and electricity needed. Many models can already be awarded the highest energy efficiency class A.
| | |
| --- | --- |
| Make | MIELE |
| ModelNo | WEG365 |
| Description |  9kg Load Miele washing machine |
| Category Name | Washing machine |
| Colour | White |
| Installation | Freestanding |
| Energy Rating | A |
| Dimensions without Packaging | (H) 848mm (W) 598mm (D) 636mm |
| Energy Consumption (kWh) | 49 kWh |
| Weight | 93 kg |
| Load Capacity | 9 Kg |
| Child Lock | yes |
| Noise Level (Spinning) (dB) | 68 dB(A) |
| Number of Programmes | 22 |
| Spin performance | B |
| Spin Speed | 1400 rpm |
| Capacity (Kg) | 9 |
| Spin Speed (rpm) | 1400 |
| Dimensions without Packaging (H x W x D) | 850 x 596 x 636 mm |
| Control Type | Rotary |
| Drum Capacity | 63 L |
| Weight Kg | 93 Kg |
Please login to write a Review
---
Not yet Reviewed. Be the first to Write a review
---
Buy Now Pay December 2024
12 months interest free..
Pay an initial 10% Deposit of £129.90. A £29 settlement fee is payable at the time of final payment. Settle the balance in 12 months interest free.Alternatively after 12 months, Pay £45.50 per month for 48 months typical 24.9% APR to settle the balance of £1169.10
Finance available at checkout
(For selected online purchases over \A3220 only)
Click here for T&C and more information
Interest Bearing Credit Finance 36 Months
Interest Bearing Credit Finance 36 Months
Pay an initial 10 % Deposit of £129.90. Pay £42.43 per month for 36 months typical 19.9% APR to settle the balance of £1169.1000000000001
Finance available at checkout
(For selected online purchases over \A3220 only)
Click here for T&C and more information
---
We will try to beat any deal prior to purchase.
Seen it cheaper?
Call Us On

020 8924 7744
---
At RGB Direct, we continually monitor our prices to keep ahead of our competitors. This takes time due to prices changing constantly and it is therefore impractical for us to always offer the best prices.
However, if you find the same product cheaper, supplied by a UK authorised dealer, brand new, boxed and in stock, we will endeavour to match or beat their price prior to purchase. This excludes any grey imports and online only retailers. Unfortunately we're unable to offer price matching for products purchased on finance or if you've used a discount code.
Delivery and Installation
---
RGB offers a range of fast and efficient Delivery options within the UK depending on the product you're buying. We provide a friendly, reliable and personal service to almost every postcode, every day.
We will only deliver goods to the CARDHOLDERS NAME AND ADDRESS for Security purpose. Delivery prices quoted are for UK mainland delivery only excluding the Scottish Highlands. This is calculated on our Website once your postcode has been entered in the Basket Page.
Free Pick a day Delivery
You can specify which day you would like to receive delivery
(In Stock item only,excluding Saturdays,Sundays and Bank Holidays)Some Selected Post Code Chargeable
We deliver to most postal areas in the UK, but geographical locations and carrier availablity can restrict our service
Installation service
RGB offer an installation service on most of the products we sell. We have qualified and fully trained engineers & technical team to connect your new entertainment system or appliance. Whether a bespoke custom install is required or installing a flat screen on the wall, we do it all.
Call us for more information about our installation service.
Ratings & Reviews
---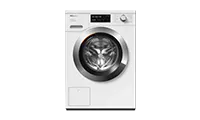 Miele WEG365